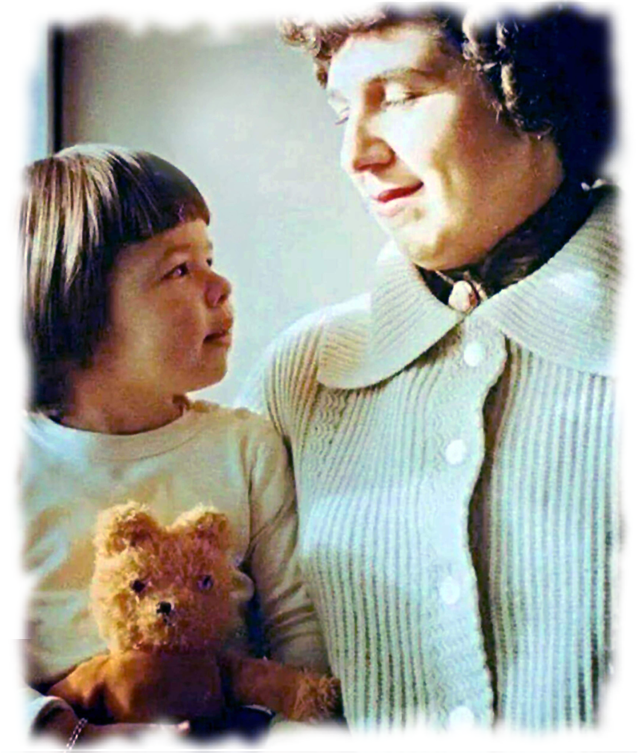 In loving memory of my mom, Teri Baker, November 5th, 1928 – January 14th, 2019.
My mother passed away on January 14th, 2019, and it still seems very surreal. This whole website had been created whilst she was alive and together we had a lot of fun creating all these magical moments for you!
I am now updating the content of this website to keep it current, but I sincerely hope you will fall in love with Teri Baker as if she were still here, working alongside me, sharing her beautiful imagination with all of you!
This is now a story about the most amazing storyteller that ever walked the land.
Over the past few years Teri has become known as the cute, funny icon in a pink wig that social media has fallen in love with. She was first admired for her strength and courage whilst battling with stage four cancer — a terminal illness that was meant to take her in October, 2017. Teri told the cancer clinic doctor she wasn't ready to go just yet. She wanted to get her book out there into the world and enjoy its popularity. She was a straight spoken women who often put her foot in her mouth with her raw honesty. The love she exuded was her kryptonite and her contagious laughter will be missed greatly.
Teri never wanted fame, only to share the many stories she wrote over a period of 80 years.
This first book, 'What if Bunny Poo was Square?' is only a stepping stone into the work she has written and that I am still working on to share. Though I write this with a broken heart, it is with great pride and joy that I keep her legacy alive. I made a promise to my mom that no matter what, I will get her stories out there and in to the hands of children, to be enjoyed and cherished forever.
Death is a very real part of life. Though I will miss my mom tremendously, she has left us with so much to remember her by. I would like to take this opportunity to invite you into our world of Teri Tales Productions and share the journey we are on!
It has been said that I had a very special relationship with my mom, Teri Baker, and I really did! We had a very special bond. She was not just my mother, she was my first love, role model and my best friend. We were also business partners working on our very first children's book together, 'What if Bunny Poo was Square?' After it was published we had the most fun 20 months that followed. I don't know too many 88 year olds that start going to their own book signings, photo shoots and local TV interviews, but Teri did and she absolutely loved and embraced the limelight. A lot was achieved before Mom passed and she felt very at peace with her accomplishments. It was my goal to make all that was possible happen and I feel I have kept my promise. I will continue to do so!
Many years ago when trying to explain my mom as a writer, I compared her to a painter. The canvas her paper, the paintbrush her pen, and instead of paint she used words. From this I came up with, 'Teri Baker, the Poetical Artist.' I feel this describes her to a 'T'.
My mother and I have been through some difficult times in our lives together and have always been each other's support. I have suffered from Lupus since the age of 15. When I had my own family the disease became extremely challenging and my mom came to live with us so she could help me raise my three children. In 2004 it was her turn to get help as she battled breast cancer. We thought all was clear until 2017, but this time it was here to stay. Stage Four is the worst news you can receive, though when the doctor told her she only had three weeks to three months to live, instead of breaking down, she thanked him for being honest and said she had faith he would do the right thing by her. The doctor had tears in his eyes because of her remarkably positive attitude, but after she said "And anyways Doc, I am not ready to go just yet, I'm working on a book, so I need to hang in there," he had to leave the room. I followed as I too could no longer contain my emotions. We both stood in the hallway. He said, "In all my years as a doctor I have never met someone who dealt with that news the way your mom just did, she is truly brave!" It was then I made the promise to myself that if she makes it this time, I will get her book self-published.
We were looking for a miracle and hoped that one would find us…and it did!
Teri and I are also thankful for the ones who have seen our vision with the book, 'What if Bunny Poo was Square?' and have shared their talents, time and support.
Izabela Bzymek is our partner and illustrator. Without her the book would not have come to life. We met over 15 years ago, but the story didn't really come together until last year. When Teri was in the hospital, the perseverance and pure determination between Izabela and myself saw us working around the clock to finish off the book. For this I will always be grateful to Izabela for helping me keep my promise and see it through.
Also from the 'Thank You Department', we are very grateful for Jeremy Hoffman using whatever precious spare time taken from his busy schedule to see our vision! Jeremy wrote and produced this awesome little song 'Forever Homes' based on our book,'What if Bunny Poo was Square?', and it's the catchiest tune around. It's fun, cute and hoppy, but watch out for that POO!
Thanks to Paolo Altruda for capturing the very essence of Teri Baker, at the end of this video. It portrays her youthful soul and the heart of an angel! She was laughing and sharing her love with everyone, which you can see here with the Highland Elementary school choir. What you see is what you get — that's my mom!
You are seeing this video today so we may share our journey; to encourage others to follow their dreams. In the video Teri says, "If I can write a book, anyone can, but I believe you need to have a passion for writing, and to be a good writer you must write a little something down everyday, "Cause that's important too!" Teri wrote right up until the day she passed! She read and wrote everyday. Teri believed by reading, it kept her current on what was going on in the world today and wrote, as it was a way of keeping her brain active. She wrote about what was going on all around her and poems for family and friends to celebrate whatever occasion was at hand. Teri said "I write, for that's who I am!", Teri Baker the Poetical Artist.
You can purchase the music from the video as an immediate download >>HERE<<




From the heart of Teri Tales Productions to you, we share a gift that keeps on giving.
Let's embrace the art of imagination and learning for generations to come.
'Because together we can make a difference'.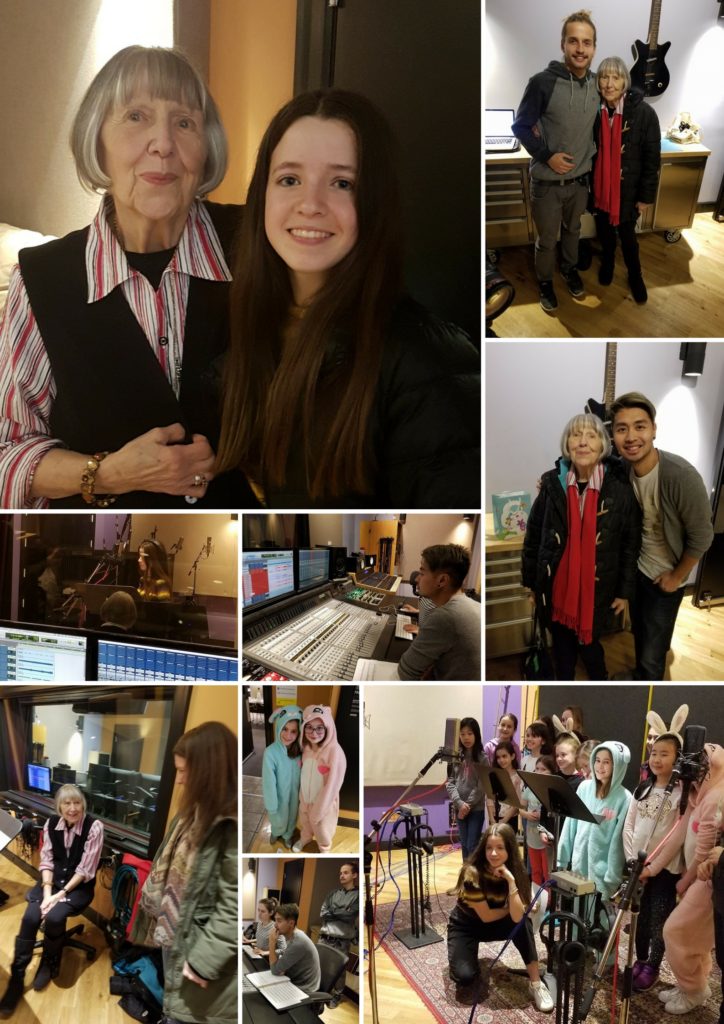 ---


'What if Bunny Poo was Square?' is a must read! 'Quirky, fun and true to life'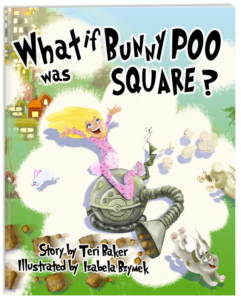 'What if Bunny Poo was Square?'
Children's Picture Book
Story by Teri Baker, Co-Author Jonica van Rikxoort
Illustrated by Izabela Byznek
Marcie's chores multiplied as her collection of bunnies grew!
This just meant no going out and lots more bunny POO!
The Moral: Don't bite off more than you can chew!